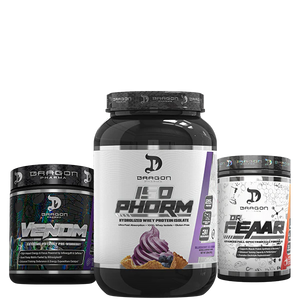 Whether you are starting your gym routine or you're already experienced and is looking for a foundation of great supplements, Dragon Pharma's Pre-Intra-Post Workout Stack works synergistically to deliver superior nutrition to help you reach the next level in your body transformation.

Venom® is way more than just another pre-workout. It uses clinically backed ingredients to provide energy and focus to get your workout started and can be customized based on your stimulant preference.

DR. FEAAR® is the complete amino acid matrix formula and it's great for pre, intra or post work out for better muscle recovery with the added benefits of electrolytes for increased muscle hydration.

IsoPhorm is formulated using only high grade, hydrolyzed whey protein isolate. IsoPhorm® has no added sugars, fillers, maltodextrin, dextrose or added aminos. What you get is a pure, premium hydrolyzed protein isolate that provides valuable micro-fractions and help maximize recovery and support lean muscle growth and repair.
HOW TO USE
Venom: Assess your tolerance by taking 1 small scoop with 8-10 oz of cold water and consume 20-30 minutes before training.
For advanced users and those looking to maximize energy, pumps, and focus, you may use the 1 large scoop. Do not exceed 1 large scoop in any 24-hour period. To avoid sleeplessness, do not take within 4 hours of bedtime.


Dr. FEAAR: We recommend to mix 1 scoop of your favorite DR. FEAAR® flavor with 10-12 fl. oz of cold water. Drink before, during, or after your workout.

IsoPhorm: As a dietary supplement, mix 1 scoop of IsoPhorm® Hydrolyzed Whey Protein in a blender, shaker cup or glass filled with 8oz of cold water, milk or your favorite beverage. IsoPhorm® Hydrolyzed Whey Protein is ideal taken immediately after exercise.

SUPPLEMENT FACTS
WARNING
This product is intended for healthy adults 18 years of age or older. Consult a physician before using this or any other dietary supplement. Do not take this product if you are pregnant or nursing, if you have or suspect you may have a medical condition, or if you are taking any prescription or over-the-counter medications. Do not exceed recommended serving. Exceeding recommended serving may cause adverse health effects. This product contains 427mg of caffeine, the equivalent of approximately 4 cups of coffee, and may not be suitable for individuals who are sensitive to the effects of caffeine. Too much caffeine may cause nervousness, irritability, sleeplessness, and occasionally rapid heartbeat. Immediately discontinue use and consult a qualified medical professional if you experience any adverse effects. Keep out of reach of children.
Customer Reviews
Write a Review
Ask a Question
12/25/2022
Manoel S.

United States
I recommend this product
Love this STACK
Along with a good diet and hard training these are the best supplements I have ever used in my life. Great flavour powerful results.