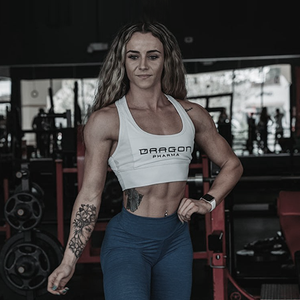 Katlyn White
Wellness Athlete
Birthplace
Detroit - Michigan
Current residence
Miami - FL
Career highlights
2020 NPC Florida Gold Cup Overall Winner
NPC Nationals 5th place
Favorite Products
Dr Feaar, ATP Force, Mr Veinz 
My name is Katlyn White. I'm a personal trainer and Wellness Athlete. I started as a personal trainer during college in 2015. After graduating college I decided to move to Miami to pursue my personal training career. I started competing in the NPC in 2019 as a figure competitor and quickly decided to switch to wellness once the division was added. My main goal is to help people achieve their desired physique, and feel confident in their skin. 
- WHEN AND WHY DID YOU START WORKING OUT?
I played sports since middle school but I didn't start lifting weights until I was a freshman in college. I started going to the weight room every day after track practice.

- HOW DID YOU GET INTO THE FITNESS INDUSTRY?
My sophomore year in college I decided that I wanted to study Exercise Science. The following year I started taking on personal training clients and in 2018 graduated with my B.S

- WHAT ARE YOUR FAVORITE EXERCISES?
Stiff leg deadlifts
Hip Thrusts
Shoulder press

- WHAT IS YOUR FAVORITE BODY PART?
Shoulders

- WHO IS YOUR INSPIRATION IN THIS SPORT?
Francielle Mattos

- WHAT MADE YOU WANT TO BE A PART OF DRAGON PHARMA TEAM?
Seeing all the amazing athletes and trying all the products.

- WHAT GOAL ARE YOU WORKING TOWARDS?
Becoming an IFBB Wellness Pro and expanding my personal training business.

- WHAT IS YOUR FAVORITE CHEAT MEAL?
I have a sweet tooth, I'd prefer Ice cream and cookies!

- WHAT ARE YOUR HOBBIES OUTSIDE OF THE FITNESS/BODYBUILDING INDUSTRY?
I love being outdoors, traveling, and trying new food.

- WHAT ADVICE WOULD YOU GIVE TO PEOPLE WHO WANT TO START A FITNESS/BODYBUILDING JOURNEY?
Be patient and persistent. Find a professional who can help guide you to your goals and give you the push you need.
Glutes
Shoulders and biceps
Quads and Calves
Back and triceps
Glutes and hamstrings

I love running outside for cardio
OFF-SEASON DIET SAMPLE
MEAL 1
Oatmeal, ISOPHORM, eggs, and berries
MEAL 2
Salmon, sweet potato, and broccoli
MEAL 3
Rice and turkey
MEAL 4
Chex cereal, ISOPHORM, chicken breast
MEAL 5
Chicken breast and salad
SUPPLEMENT ROUTINE:
I take Digestion RX, Vitamin C RX, Immune RX, and Joint RX with breakfast. Before training I take MR. VEINZ During training I take DR FEAAR and ATP FORCE After training I take ISOPHORM Before bed I take Stress RX