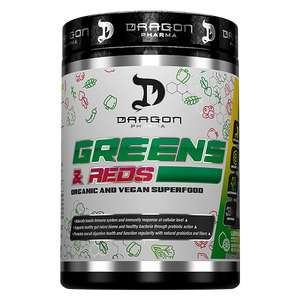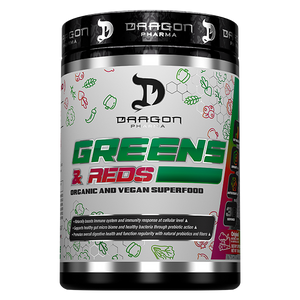 Dragon Pharma Greens & Reds is the perfect combination of the highest quality red fruits and vegetables on Earth. This organic & vegan superfood guarantees you to get more vitamins, minerals, and healthy nutrients in your body than you ever could within your diet alone.
It's difficult to get your fill of essential foods and vitamins daily. Dragon Pharma Greens & Reds provides a potent blend of over 23 Organic and Nutritious Superfoods and combines all the pre & probiotics, and plant-based nutrients your body needs.
You get everything you need in one convenient powder, one easy scoop, one great-tasting drink. Dragon Pharma Greens & Reds will have you feeling brand new every day, from the inside out. 
BENEFITS
Optimal Health And Wellness 
Key Vitamins & Minerals 
Naturally Boosts Energy Levels & Mood
Immunity & Gut Wellbeing
Better Athletic Performance
HOW TO USE
Mix, shake, or blend 1 serving with water or your favorite beverage. Recommended 1 or 2 servings per day.
SUPPLEMENT FACTS 
SCIENCE
Dragon Pharma Greens & Reds includes:
Greens Blend: Full serving or 12 different vegetables for the day. Supports body natural detox process and it is formulated from these extracts: Spirulina Powder, Parsley Powder, Kale Powder, Barley Grass Powder, Wheat Grass Powder, Chlorella Powder, Green Pepper Powder, Green Apple Powder, Green Banana Powder, Sweet Potato Powder & Broccoli Powder. 
Reds Blend: 6 different fruit powders rich in antioxidants helping with damage from harmful free redicals. Get your daily dose of fruits with these high-potency organic extracts: Strawberry, Raspberry, Blucberry, Tart Cherry, Pomegranate, Cranberry & Beet. 
Prebiotic Fiber: Gut health has a profound impact on our total well-being. A healthy gut requires healthy gut bacteria, and those trillions of beneficial bacteria all need a special kind of fiber called "prebiotic fiber." This blend is formulated with Inolin and Fructooligosaccharides which are soluble prebiotic fibers that promote friendly bacteria growth to yield important metabolites, including lactic acid, and the short chain fatty acids acetate, propionate, and butyrate. Lactic acid helps to maintain proper pH in the gut. No gas or bloating. Just a healthy gut. Your entire body depends on the energy provided by your digestive system. Give it the support it needs, and your whole body reaps the rewards. 
Immunity & Metabolic Blend: Protect your health and longevity with these antioxidant-rich premium extracts: Ginger Powder, Turmeric Powder, Green Tea Powder, Elderberry Extract & Apple Cider Vinegar Powder. 
Probiotic Blend: Heat stable Probiotic (Bacillus Coagulans) is unique in probiotic supplementation. It delivers immune and digestive health benefits, unlike any other probiotic strain. 
FAQ
WHEN SHOULD I TAKE GREENS?
It is best to take it in the morning, but it can be taken at any time of day.
DOES GREENS CONTAIN ANY ALLERGENS?
No. Greens is non-GMO, all organic, gluten-free, dairy-free, soy-free, and nut-free.
DOES GREENS CONTAIN SUGAR?
No, Greens is sugar-free. It is lightly sweetened with a hint of stevia extract and has a delicious flavor. We spent a lot of time formulating a green drink that isn't just nutritious but is also delicious. A drink that you will want to drink every day
ARE THE VITAMINS AND MINERALS NATURAL OR SYNTHETIC? 
The vitamins and minerals are all natural. We are using an amazing organic concentrated superfood blend which provides a huge range of vitamins and minerals, naturally.
IS DRAGON PHARMA GREENS & REDS VEGAN?
Yes it is! There are no animal derived ingredients in our formula.
Customer Reviews
Write a Review
Ask a Question
02/11/2023
zay

United States
I recommend this product
Amazing product
I love that it has two in one (greens and reds). I have problem with digesting food properly but this does the trick. Makes me feel way less bloated and especially helps my bowel movement. The only greens and reds I would ever recommend anyone!!
I recommend this product
Good flavor
It has good taste and helps you to get the vitamins and minerals that maybe you can't complete with your food
08/14/2023
Kevin R.

United States
I recommend this product
Greens on the go
When you don't feel like eating a lot of veggies just scoop and you're ready to go! Great supplement