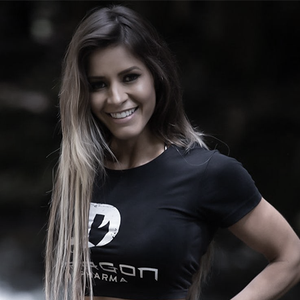 Priscila Escobar
Athlete/ Model 
Name
Priscila Rodrigues Escobar
Birthplace
São Paulo - Brazil
Current residence
Brisbane - Australia
Career highlights
NABBA / WFF
2018 Nabba / WFF Championships: Overall Bikini
2018 WFF Australia Championships: 1st Place Bikini (Pro Card)
2018 WFF Australia Championships Pro: 3rd Place
IFBB
Queensland State Championships 2019 –Overall Bikini
National championships 2019 – 3rd Place Bikini Novice
Arnold Qualifier 2020: 3rd Place Bikini
Arnold Classic Pro Qualifier 2020: 6th Place
Favorite Products
Isophorm and Dr FEAAR
My passion for bodybuilding started in my teens, as I started training to gain volume, stop being thin and improve my self-esteem.
In 2011 I decided to participate in a Model contest to be the Official Fitness Model of Palmeiras one of the biggest Soccer Teams in Brazil. I signed up even though I didn't think I had a chance to win. And to my surprise I won. So I competed at Sao Paulo State Soccer League Fitness Model Search.
 
I never imagined participating in fitness championships. I always liked to train, but I trained as a hobby.

I love to eat well and take care of my body. However, in 2018 I received an invitation to participate in a bodybuilding show. I was curious, but I never imagined myself competing. I decided to accept the invitation.

I had to learn everything, categories, poses, etc. I didn't understand anything about the sport. It was a challenge and I loved the experience, since I fell in love with bodybuilding.

I went up on stage and was overall champion in my first championship here in Australia.
- WHEN AND WHY DID YOU START WORKING OUT?
I started training in my teens as I was very thin. That bothered me a lot.

- HOW DID YOU GET INTO THE FITNESS INDUSTRY?
I started training in my teens for aesthetic reasons. I decided to train to gain volume. However, at the time I didn't have much discipline, it started and always stopped. After I moved to Australia I started taking more care of my food and my training routine. I started to dedicate 100%.

- WHAT ARE YOUR FAVORITE EXERCISES?
I love to train Back and Glutes. Chin ups and glute bridges are my favorite.
- WHAT IS YOUR FAVORITE BODY PART?
Abs and Shoulders

- WHO IS YOUR INSPIRATION IN THIS SPORT?
Isa Pecini and Angelica Teixeira

- WHAT MADE YOU WANT TO BE A PART OF DRAGON PHARMA TEAM?
The quality of the products.

- WHAT GOAL ARE YOU WORKING TOWARDS?
Getting more muscle mass.

- WHAT IS YOUR FAVORITE CHEAT MEAL?
Pizza and Hamburger

- WHAT ARE YOUR HOBBIES OUTSIDE OF THE FITNESS/BODYBUILDING INDUSTRY?
Traveling.

- WHAT ADVICE WOULD YOU GIVE TO PEOPLE WHO WANT TO START A FITNESS/BODYBUILDING JOURNEY?
Always believe in your potential and don't give up until you reach your goals. Have good professionals to help and motivate you. Train, be disciplined, dedicate 100% and be patient, as the results do not appear overnight.
| | |
| --- | --- |
| MONDAY | Legs |
| TUESDAY | Shoulders |
| WEDNESDAY | Back |
| THURSDAY | Glutes |
| FRIDAY | Shoulders |
| SATURDAY | Back and Glutes |
| SUNDAY | |
OFF-SEASON DIET SAMPLE
MEAL 1
2 scoops of IsoPhorm,10 strawberries
MEAL 2
3 egg whites, 2 whole eggs, 40 gr oats, 40 gr peanut butter
MEAL 3
150 gr of fish, salad
MEAL 4
120 gr lean ground meat, 100 gr rice
MEAL 5
120 gr chicken, 70 gr rice, 80 gr broccoli
MEAL 6
3 egg whites, 100 gr lean ground meat, 100 gr avocado
SUPPLEMENT ROUTINE:
| | |
| --- | --- |
| MORNING | Black Viper and Fematrope |
| PRE-WORKOUT | Venom, Mr. Veinz, ATP Force |
| INTRA-WORKOUT | Dr Feaar |
| POST-WORKOUT | IsoPhorm |