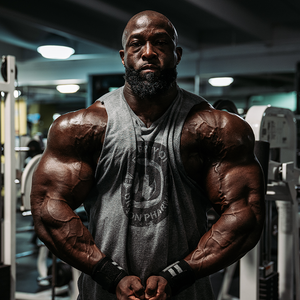 Birthplace
Fort Lauderdale, FL
Current residence
South Florida
Career highlights
2006 NPC South Florida Overall Champion
2006 Bodybuilding.com "Best Teen Bodybuilder of the Year" Award
2008 Junior Universe Champion
2008 Florida State Bench Press Championship (1st)
2009 NPC Collegiate Nationals Overall Champion
2011 NPC Branch Warren Classic Overall Champion
2012 NPC Nationals (5th)
2014 NPC Nationals (8th)
2014 NPC South Florida Overall Champion
2019 IFBB Caribbean Championships (1st LHW) (2nd Overall)
Favorite Products
Cycle Shield, ATP Force, Flex-8 and Mr. Veinz (Fruit Punch)
Yumon was born and raised in Fort Lauderdale. He graduated from Florida State University in 2009 with a BS in Psych and a Minor in English. Yumon actually started out as a school teacher before realizing that working with young kids was not for him. Shortly after, he begon working with senior citizens, which continue to do to this day. Yumon and his partner have a contract with the housing authority of Broward County, which allows them to visit low income, assisted living facilities where they conduct group fitness classes utilizing a variety of low impact resistance exercises. They also do nutritional counseling and healthy living seminars with each visit. All of this comes at absolutely no cost to the participants. Many of the seniors they enconter have very debilitating illness and disorder. The majority tend to be stroke victims, diabetics and cancer patients. They primary goals through all of this is increasing functionality and making daily living more manageable for them, i.e. getting in and out of bed easier, to and from the bathroom, etc. Yumon have been doing this for over ten years now and absoutely love it. Outside of bodybuilding this is his greatest passion.
Q. WHEN AND WHY DID YOU START WORKING OUT?
I started training with weights to prepare for high school football. After football I began powerlifting in college.
Q. HOW DID YOU GET INTO THE FITNESS INDUSTRY?
I was recruited to do a local bodybuilding competition by a promoter who had seen me at a powerlifting meet. I ended up winning the Overall at this show as a teenager. I completely fell in love with bodybuilding after this and I have been competing ever since.
Q. WHAT ARE YOUR FAVORITE EXERCISES?
Incline hammer chest press and lat pulldowns
Q. WHAT IS YOUR FAVORITE BODY PART?
Back.
Q. WHO IS YOUR INSPIRATION IN THIS SPORT?
My all time favorite bodybuilder are Kevin Levrone and Flex Wheeler.
Q. WHAT MADE YOU WANT TO BE A PART OF DRAGON PHARMA TEAM?
Dragon Pharma is more than just a company to me. It's more than just a brand. The individuals within this company have become my family. I've never been involved with a company that values me as a person so much and I never previously experienced the level of support I've received from Dragon Pharma. Knowing that I am truly part of a TEAM is what drew me to Dragon, and this is what will keep me here.
Q. WHAT GOAL ARE YOU WORKING TOWARDS?
Expanding my coachin/training business and earning my IFBB Pro Card.
Q. WHAT IS YOUR FAVORITE CHEAT MEAL?
Pizza
Q. WHAT ARE YOUR HOBBIES OUTSIDE OF THE FITNESS/BODYBUILDING INDUSTRY?
I'm pretty simple. I don't go out much. I'm not a partier. I enjoy being at home with good food and enjoying a good movie. That's my idea of the perfect evening. Good food and a good movie. I enjoy peace. I prefer the quiet life.
Q. WHAT ADVICE WOULD YOU GIVE TO PEOPLE WHO WANT TO START A FITNESS/BODYBUILDING JOURNEY?
Don't rush anything. Be patient and be consistent. I have kids who've never competed before and with no social media engagement asking me how they can get sponsored all the time. First things first. Create a brand. Develop a following. Use the tools available to you through social media, i.e. Instagram, Facebook, etc. Secondly, out the work. There are no hand outs in this industry. If you want to be successful, stop thinking and start doing. Period.
| | |
| --- | --- |
| MONDAY | Chest and triceps |
| TUESDAY | Back and biceps |
| WEDNESDAY | Rest |
| THURSDAY | Quads |
| FRIDAY | Shoulders and hamstrings |
| SATURDAY | Rest |
| SUNDAY | Rest |
OFF-SEASON DIET SAMPLE
| | |
| --- | --- |
| MEAL 1 | 1 cup oats, 1 banana, 2 slices of toast, 1 scoop Isophorm |
| MEAL 2 | 6oz chicken breast, 6oz white potato |
| MEAL 3 | 6oz sirloin tip, 6oz white potato |
| MEAL 4 | 6oz chicken breast, 6oz white rice |
| MEAL 5 | 6oz buffalo, 6oz white rice |
| MEAL 6 | Isophorm shake before bed |
PREP DIET SAMPLE
| | |
| --- | --- |
| MEAL 1 | 1 cup of Oats, 1 Banana, 2 slices of Toast, 1 scoop isophorm |
| MEAL 2 | 8 oz Boneless/skinless chicken breast, 6 oz sweet potato |
| MEAL 3 | 8 oz sirloin tip, 6 oz white potato |
| MEAL 4 | 8 oz boneless/skinless turkey breast & 6 oz jasmine rice |
| MEAL 5 | 10 oz cod, 6 oz sweet potato |
| MEAL 6 | Isophorm shake before bed |
SUPPLEMENT ROUTINE
| | |
| --- | --- |
| MORNING | Isophorm with Breakfast and Before Bed |
| PRE-WORKOUT | Mr. Veinz, Dr. Feaar, ATP Force |
| INTRA-WORKOUT | Dr. Feaar, ATP Force |
| POST-WORKOUT | Dr. Feaar, ATP Force, Isophorm |