Dragon Pharma Signs the Phenom "Big Ramy"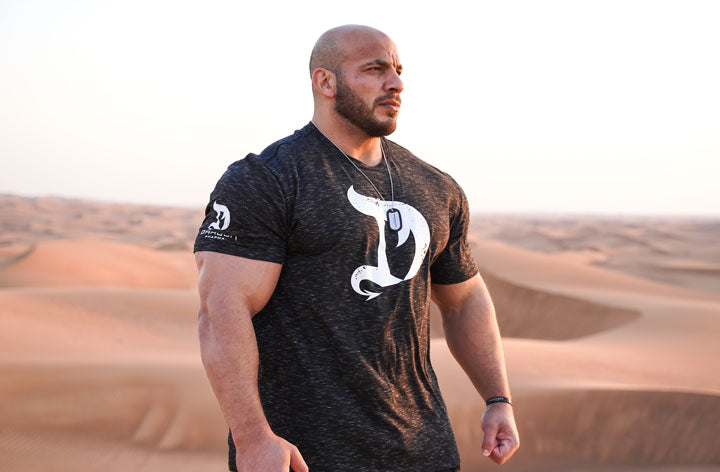 Over the years, Dragon Pharma has looked at many people to be the leading athlete that would signify what Dragon Pharma stood for. We had many athletes from all over that have contacted us, but there was something 'missing" that did not truly represent what the company stood for. Sure, they had followers and a social media following but to represent the hardcore value and virtues of Dragon Pharma, we need someone "special." We needed someone that was not your typical ambassador that but someone that lived and breathed hardcore. Our products are made for the athletes that push themselves past the point of other people. Dragon Pharma products are made for those athletes are still training when others have thrown in the towel. We needed an athlete that truly represented Dragon Pharma core beliefs!

On April, 2019 we signed the athlete that we had but looking for nearly five years. We signed the most massive bodybuilder on the planet, the "Phenom" Mamdouh Mohammed Hassan Elssbiay. If that name does not ring a bell that may know him as "BIG RAMY!" Ramy is considered to be the biggest threat to the Olympia title with unmatched size and a small waist. Fast forward to 2019 and Big Ramy is on a mission to claim the coveted Mr. Olympia title and Dragon Pharma website is going to be bringing you exclusive content and pictures and behind the scenes footage of Ramy that you won't find anywhere else!!




Mamdouh Mohammed Hassan Elssbiay
Nickname: "Big Ramy"
Birthplace: Baltim, Kafr El Sheikh, Egypt
Date of Birth: September 16, 1984
Height: 5'10"
Weight: Contest Weight 310 lbs., Offseason Weight: 350 lbs.

Ramy Bio: In 2012, a young bodybuilder by the name of Mamdouh Mohammed Hassan Elssbiay stepped onstage and crushed every competitor at the Amateur Olympia. Judges, fans, and media attending the show went berserk!! "Who the !*% is this guy?" With size and mass never seen before, in conjunction with a tiny waist that almost seems inhuman, he was nicknamed "Big Ramy." From that point on, he successfully climbed the ranks in bodybuilding and placed 2nd in Mr. Olympia in 2017; despite many people believing that he should have won the show.
Ramy is what Dragon Pharma embraces in its athletes, a relentless passion for improvement and sacrifice. Ramy grew up in a poor area of Egypt; believe it or not, before Ramy became a professional bodybuilder, he was a fisherman. He spent many years working long hours in the sun as a fisherman only to go hit the gym after a grueling day at work. Ramy never wavered from his true dream of becoming the best bodybuilder in the world. Since 2012, Ramy has been unstoppable and continually improves with only the Mr. Olympia title to elude his grasp. Ramy's story is what Dragon Pharma athletes are all about... hard work, dedication, and a relentless passion for improving.