Olympia 2020 - Meet Dragon Pharma Team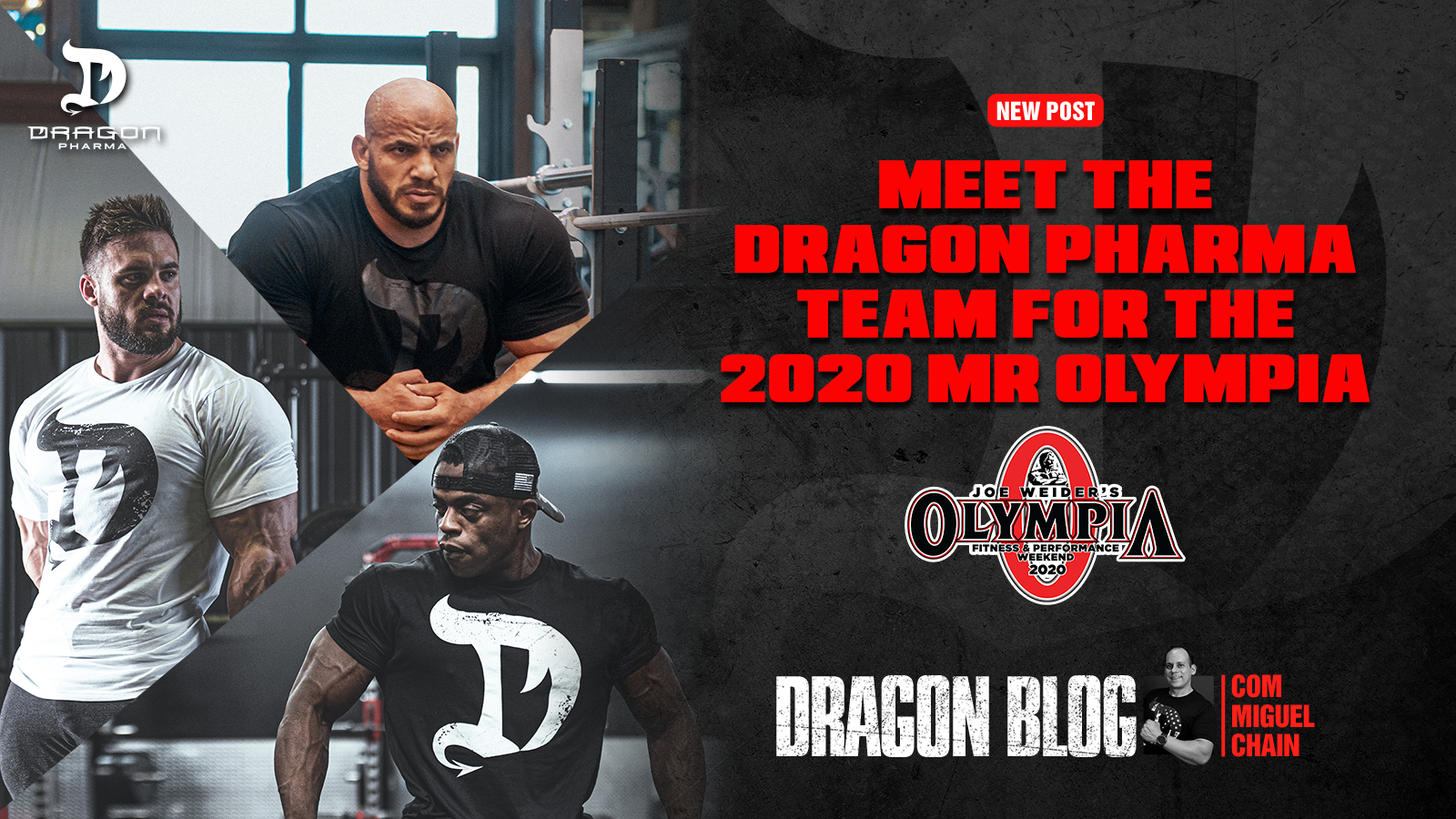 Mr. Olympia is the most important and traditional bodybuilding show on the planet. Held continuously since 1965, the event has been growing alarmingly since then, adding new events, adapting and expanding each year.

Mr. Olympia started in 1965 to really choose who was the best bodybuilder in the world. Joe Weider created the competition, which it is being held every year after year. In the beginning it was just a bodybuilding show. Over time, new categories were added, a large expo was added, and the importance of that title grew exponentially.

Winning an Olympia title elevates the athlete to a "Legend" status in the sport. In fact, the simple fact of competing at Olympia is already a great achievement in the career of a professional athlete.

In 2020, things were not so simple. The global situation forced changes in plans in all sectors. Many sporting events have been canceled. Therefore, Olympia 2020 has undergone changes in the date and location.

This is the first time since 1998 that Olympia is not held in Las Vegas. The event will take place within a few days in Orlando, Florida.

In a year with severe restrictions, changes of dates, change of location, uncertainties, we can say that the management of Olympia did an excellent job in managing to hold an event of this magnitude still in 2020.

But those who deserve all the praise and glory are the athletes, who have been training, dieting and preparing themselves hard for months for this show.

Dragon Pharma proudly has a strong team to compete in the main categories of Olympia 2020. Now, you will have the chance to know their journey to the top a bit better.

Logan Franklin

Logan Franklin is one of the most promising athletes at Classic Physique. He started competing at Men´s Physique - where he achieved significant victories and participated for three consecutive years at Olympia.
In 2019 he transitioned to Classic, debuted very well with a third-place finish in Tampa Pro 2019.
In 2020 he competed and won the New York Pro, securing a place for his first Olympia at Classic Physique.
Considered by the public, press and referees as an athlete with excellent potential for Classic Physique, due to his beautiful lines, physical aesthetics and muscularity, Logan arrives with a good boost in this Olympia and should fight for excellent placements.
Andre Ferguson


Andre Ferguson is simply the athlete with the most victories in Men´s Physique Professional, including three consecutive wins in Arnold Classic Ohio (2018-2020). These credentials make him a favorite in any show of Men´s Physique on Earth and he is certainly one of the favorites for the Olympia 2020 title.
Ferguson has been preparing for months for this tough confrontation against one of his biggest stage rivals - Raymont Edmonds - who is the defending champion.
Certainly Men´s Physique will be one of the most exciting and disputed categories, with a very high level of competitors, that's why Andre Ferguson redoubled his efforts and trained harder than ever - so that he can pursue this important title in his career.
Big Ramy


Big Ramy is the number one pick within the sport's fans. One of the most popular bodybuilders in the world, with millions of fans, Ramy faced a difficult year, where he saw important competitions, for which he had invested a lot of time and effort, to be canceled.
Mr. Olympia is your next challenge. His resume features important titles like the New York Pro (where he has two wins), Arnold Classic Europe and Arnold Classic South America.
Big Ramy caused a stir in Bodybuilding by taking second place at Olympia 2017 and pushing Phil Heath, the then champion, to the limit.
In 2018 things were not so good for Ramy and he ended up in a disappointing sixth place. 2019 was a tough year, Ramy faced and struggled with injuries that prevented him from competing at Olympia.
In 2020, Ramy has been striving like never before for redemption. With an improved, more balanced physique and with Chad Nichols at his side, Ramy hopes to make an excellent presentation at Mr. Olympia and is considered by many experts in the international press to be one of the 3 big favorites for the title, along with former champion Phil Heath and the current champion Brandon Curry.
Don't miss any details of the Olympia 2020.
Olympia 2020 is the most anticipated show of the year, and Dragon Pharma will be there showing everything about our athletes and the event. Follow us on Instagram to stay on top of all the news of Olympia 2020!