The New Dr Feaar - All you need to Know about EAA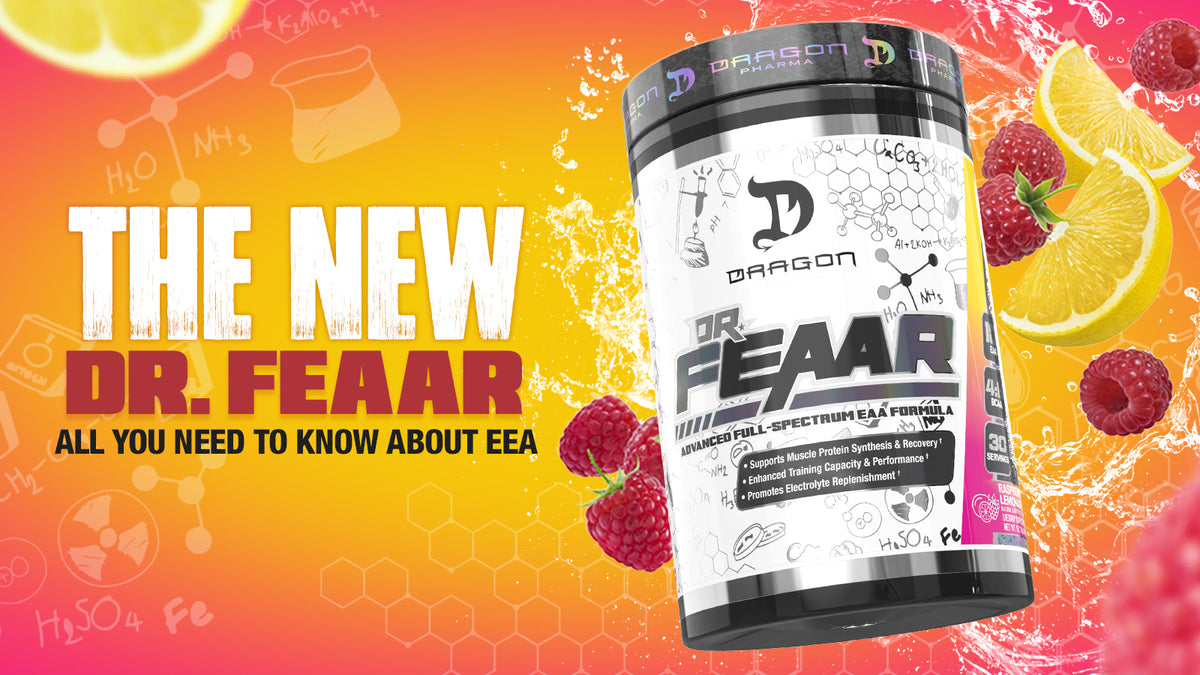 DR. FEAAR is back! The most efficient Essential Amino Acid supplement on the market got even better and tastier.
Formulation wise, the ratios of the individual Essential Amino Acids have been optimized to make DR. FEAAR the most complete and powerful amino acid supplement available. Powered with a 4:1:1 BCAA ratio and 10g of total EAA, DR. FEAAR is the premium choice for amino acid supplementation.
The flavor has also been completely reinvented, featuring premium flavors that pair premium taste with superior formulation.


Let's see now why DR. FEAAR is a must in your supplement stack.
Benefits of DR. FEAAR:
-Optimized Muscle Recovery
-Increase in protein synthesis
-Increase Strength
-Increased training intensity
-Increase in the capacity to adapt to stress
-More Muscle Hydration, helps in Pumps
-Ability to train heavier for longer periods
- Ability to shorten recovery time from injuries
Essential Amino Acids X BCAAs
Our body can produce most of the 20 amino acids from other amino acids. For example, if I have proline available and I need glycine - my body is able to produce proline from glycine.
Of these amino acids, there are 9 that are classified as Essential Amino Acids, meaning that they cannot be produced in our body and need to be ingested through diet or supplementation.
For the longest time in sports nutrition, 3 of these EAA known as BCAAs (Leucine, Isoleucine and Valine) were the only ones popular in sports nutrition. They play an important role in protein synthesis, metabolism and energy production and were considered valuable supplements in muscle building.
However, as new research emerged, it was discovered that something (literally) essential was missing. 
Science shows that BCAA do have value and are anabolic in triggering muscle protein synthesis, however all of the 9 essential amino acids are required for complete muscle repair and growth to occur. If these EAA aren't avaialble, you are essentially triggering growth and rebuilding but not providing the raw materials to build with!
When the 9 essential amino acids are consumed in the ideal proportions and doses (there is no point in using smaller doses) muscle protein synthesis is greatly amplified and more muscle protein is actually being produced.
In addition, the 9 Essential Amino Acids are also precursors of neurotransmitters, act on metabolism, improve your sleep and mood and are responsible for dramatically accelerating the muscle repair process.
It is well established that the 9 Essential Amino Acids are a much more efficient option than BCAAs alone. They cost a little more, but the result is proportionately better, which guarantees a much better cost benefit.
HyperAminoacidemia - The Power of Aminos
Of course, it is possible to consume these amino acids through the diet. But from food you will get small doses of each with each meal. Nothing wrong with that. But this may not be the best scenario.
Over the years, science has discovered that some amino acids acquire extra special abilities when consumed and absorbed in large quantities at once.
When we provide high and easily absorbable doses of certain amino acids to our body, Hyperaminoacidemia occurs.
An example - when we consume and absorb large amounts of Leucine, we have a great mTor activation, which is a chain of reactions that governs muscle protein synthesis.
DR. FEAAR - your greatest ally in the search for Muscle Growth
Dragon Pharma took all this scientific knowledge to develop the new and improved DR. FEAAR.
DR. FEAAR contains clinically tested doses of the 9 essential amino acids. With a 4:1:1 ratio of BCAAs and has been fortified with an electrolytic and hydration matrix to make absorption even faster.
This means that you have high amounts of essential amino acids that will be absorbed instantly, putting you in an immediate state of anabolism.
The highlight of DR. FEAAR is the stimulus to increase protein synthesis, which can be dramatically stimulated by the 9 essential amino acids.
When we train, what basically happens is that we "break" muscle to stimulate protein synthesis and to be able to build new, bigger and stronger muscle.
When we eat adequate amounts of the 9 essential amino acids, we also stimulate protein synthesis as much as if we had a training session.
And there´s more. This is good news. Studies show that there is a cumulative effect between training and ingesting essential amino acids. That is, when you take DR. FEAAR and train, your protein synthesis - the ability to build muscle - is amplified.
Beyond Aminos, Beyond Your Expectations
In addition to the 9 essential amino acids, highly important for protein synthesis, we have added other ingredients to further increase its performance and results.
PeakO2 is an adaptogenic compound formed by extracts from six mushrooms found in the USA. It significantly increases oxygen uptake and working capacity while helping to lower lactate levels. This allows you to train harder for longer periods.
We also have a Hydration and Electrolyte Matrix that will allow you to maintain higher muscle hydration levels and throughout your workout, in addition to optimizing nutrient absorption and muscle contraction.

The Word of the Expert
We talked to Drew Peters, Director of Scientific Affairs - the guy who actually formulates and flavors all of our products - to find out what's new in DR. FEAAR.
-What´s the difference between the old and new formula?

The new formula of Dr. FEAAR was reinvented to accomplish a variety of things. First and foremost, I altered the ratio of the amino acids to provide a more strategic ratio of all the EAA, especially increasing methionine which is one of the main precursors to the production of many other amino acids.

The ratio will optimally support protein synthesis and recovery while delivering endurance enhancement from the Peak02 and hydration from our unique hydration matrix.

Last but not least, the flavor system has been completely re-done to create an incredible experience for all.
-The flavor has improved a lot. DR. FEAAR is even more delicious than before.  We know pure aminos taste like Sh*#. How did you accomplish that?
Aside from altering the amino acid ratios, I spent a lot of time in the flavor lab fine tuning the flavor system.

I experimented with a few various flavor combinations and utilized the natural bitter notes of the aminos to select flavors that were complementary to the product and help deliver the best possible flavor system.

With 10g of EAA per serving and 1g of Peak02, flavoring this was no easy feat, but I feel that the Apple Juice, Raspberry Lemonade and Peach Guava are all flavors that have a natural synergy with how the aminos taste, creating a great experience.
-Why not just take BCAAs?
First realize that BCAA are part of the group referred to EAA (essential amino acids, meaning the body cannot produce them and must be ingested).
Delving a little further into this, some debate between BCAA alone vs a supplement with all EAA. If you are training in a fasted state or there isn't adequate amino acids via protein intake, then research has suggested that BCAA can be catabolic and breakdown tissue to feed the mTOR process.

In a simple way of putting it, BCAA initiate protein synthesis (leucine triggers and insulin response, isoleucine makes cells receptive to said insulin response and valine prevents fatigue).

If you are ingesting BCAA without the other amino acids available, you're basically hiring a construction crew to build without giving it the 'bricks' per se.
-Please, tell us how the Electrolytes and Hydration Matrix can help during the workout session.
DR. FEAAR is designed to be used intra-workout to fuel recovery and prevent muscle breakdown. The hydration matrix helps ensure that you are getting crucial electrolytes that you lose from sweat and help you keep  performing optimally.
-DR. FEAAR can be stacked with other supplements?
For best results, stack DR. FEAAR intra-workout with Venom or Mr. Veinz pre-workout and IsoPhorm post workout for optimal performance, endurance and recovery.